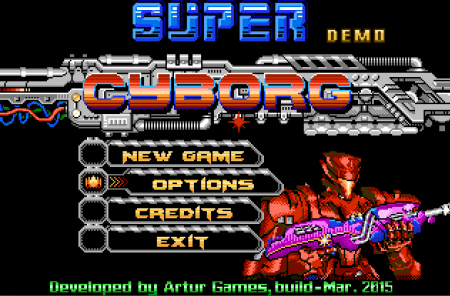 Super Cyborg est un clone du bon vieux jeu Contra sortie sur nes, arcade, Amstrad, commodore 64, MSX2 etc..
le dev a garder l'esprit du gameplay oldschool 8bit.
sortie en juillet 2015 sur PC STEAM Ã  5 euros.
Super Cyborg is an oldschool nonstop hardcore run'n'gun action! You play as battle cyborg who was sent to investigate a mysterious island. A very powerful alien known as 'Xirxul life form' has been awakened by the scientists and now all humanity is in danger! Are you ready to save the Earth?
trailer Super CYborg (clone Contra)
pour essayer le jeu voici la version demo
DEMO SUPER CYBORG PC
disponible sur PC STEAM 4,99€
il y a aussi la version ARCADE CONTRA REVOLUTION EVOLUTION
merci à Bruce
voici la version original enfin le poster... le marketing oldschool c'était mieux avant
Contra speed run sur nes / famicom
Gryzor (Contra) port (1987) for Amstrad CPC.